Xenon++ released a Popsloader Extractor to install Popsloader PRX's in an easier way.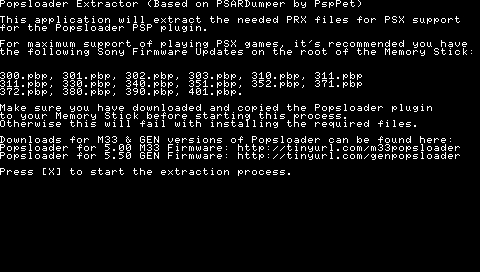 Release notes:
http://www.mediafire.com/file/mtnimhnxqmn/popsext002.7z

0.02.091222
Popsloader Extracter no longer stops when 401.pbp is not found, if ms0:/seplugins/popsloader/impose.prx exists.
#It doesn't change the fact that popsloader requires impose.prx from 4.01.
Automatically mkdir ms0:/seplugins/popsloader

Todo:
Merge libpsardumper into EBOOT.PBP
(pspPSAR.c available for static build but emits 0x8002013c possibly kernel mode issue)
6.20 decryption
(pspdecrypt.prx in EDecrypt 1.3 seems to be able to but it cannot decode old pbp).

Afterword:
I have seen applications like this but they didn't meet my need.
Only this meet both of these: 4.01 extract and free to redistribute.
Thanks to http://forums.qj.net/psp-news-announcements-contests/162858-popsloader-extractor-v0-02-released.html for the news.
http://www.pspgen.com/forums/popsloader-extracter-t192859.html