PReSS stands for Portable RSS. And that's just what it is: an RSS reader for the Playstation Portable. Let PReSS connect to any WiFi access point and you're good to go. With it's 6 hour battery lifetime, reading the news while travelling was never easier.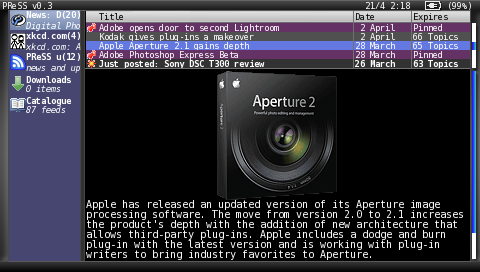 Changes:
– Slim support
– WPA and other encryption support
– personal feed catalogue
– mp3 download and playback
– mp4 and AVC video download
– atom/xml support added
– more reliable: http 1.1 protocol for image download
– ability to abort updating feeds
– faster feed saving
– remapped buttons (see read-me)
– support for larger images
– Real favicons instead of generic logo.
– faster panning in image view
– viewfinder in image view
– show/hide topics window
– Added to settings: Large thumbnail quality, 0 = display image as a link, 1-3 = image quality(only applicable for large images)
Thanks to http://www.dcemu.co.uk for the news.