This is a magazine in PSP size format.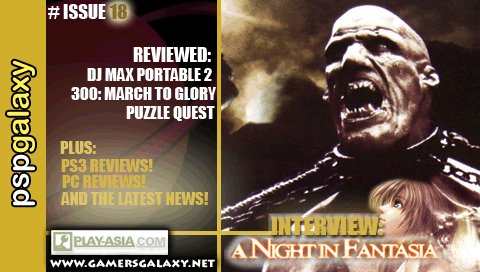 Content:
-Interview with Hiroaki Yura, creator of Eminence Symphony Orchestra, who are performing 'A Night in Fantasia 2007: Symphonic Games Edition' this year!
-Reviews: DJ Max Portable 2, 300: March to Glory, Puzzle Quest, Burnout Dominator
-PS3 Reviews: Motorstorm, flOw, Super Rub a Dub
-PC Reviews: Sam & Max Episodes 3, 4 and 5
-New rant – Domfunkle's rant!
-Movie Review: Mr Bean's Holiday!
-All the old favourites – News, Cooking with Mof, Movie Watch
-All new instalment of the Gamers Galaxy comic!
-And much more!