This is an Alarm application which utilizes the PSP's Hardware Capabilities to set an Alarm that will wake up the PSP from either Sleep Mode or Powered Off (standby) mode. It is compatible with ALL PSP's including Slim & Light. Comes with an Easy to Use and Intuitive GUI design.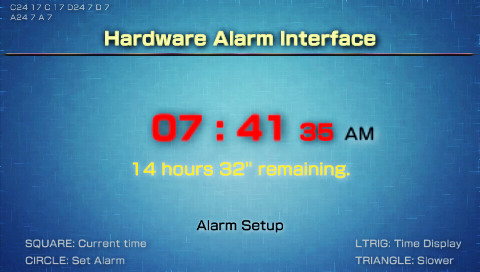 Main features:
+ Runs on both 1.xx & 3.xx Kernels – Compatible with both PSP 2000(Slim & Light) & PSP 1000(Classic)
(No need for 1.5 Kernel addon or 1.5 Fw (but also works in that)(The main purpose this was coded in 1 week)
+ Sleep Mode Alarm with support for custom MP3 Audio file.
+ Power Off Mode Alarm that plays sound in XMB. (Plugin Required – Seperate Package)
+ Uses 12 Hour Time system (AM/PM), no more Confusing time conversions
+ Display's Hour's and Minutes remaining as the Alarm time is being set; updated in real time.
+ Alarm can be set up to 23 hours 59 minutes in future, Check for (Invalid – Readjust message).
+ Alarm Accurate to the Second.