Inspired by classic drum machines, synthesizers, samplers, and modern audio software, PSP Rhythm is a portable music studio which fuses old and new ideas.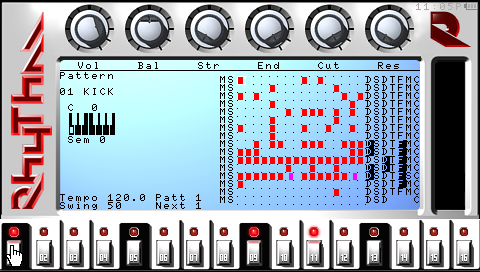 The heart of PSP Rhythm is its sample based playback engine. The playback engine enables you to chop and pitch-shift any sound. Every sampled sound also runs through an individual volume envelope which enables you to alter the attack or decay of the sound. Samples can then be modified with effects such as distortion, slicer, delay, time-stretch, high/low pass filter, and monophonic sample mode.
The on board Bass-line synth in PSP Rhythm is similar to the classic Roland TB-303. TB-303 style features such as Accent and Slide are available. The real-time control of the cutoff and resonance give you that authentic "Acid" sound that made the TB-303 Bass-line synth so famous.
The newest audio tool introduced in PSP Rhythm is the Wave Synth. The Wave Synth uses the basic building blocks of subtractive synthesis with the ability to use any sampled audio source as a digital oscillator.
PSP Rhythm can simultaneously sequence 15 samples or 15 wave synths and 1 Bass-line synth. Sounds are grouped into patterns, patterns can be expanded into songs, and songs can be recorded to CD quality PCM wave format and exported to general midi. Songs can now be loaded and saved per song file which enables you to save and back-up your data as much as you wish.