PSP Wardrobe is a theme flasher.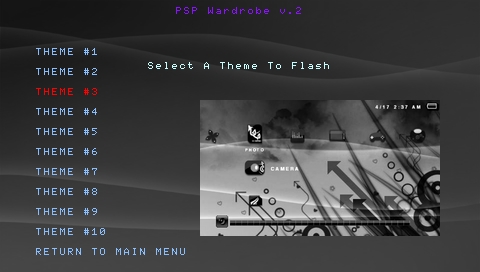 Changes:
*v.2 (4/26/2007)
– Changed battery Requirement from 33% to 20%
– Added Feature that program will not boot you if under 20% battery, if PSP is plugged in charging
– Added firmware Version check Protection. Program will boot you if your firmware is not 3.03 OE
– Removed Start Quits function… Added quit to menu.
– Added support for sysconf_plugin.rco
– Increased support from 4 themes, to 10 themes
– Added "Flash A XMB Mod" menu, that lets you flash any of the supported .rco files to your current theme. (Currently allows 1 mod of each type)
– Added "Recovery Menu" menu. Lets you restore the entire original XMB, or any single aspect of it.
– Added "Back Up/Restore" menu. that lets you back up and restore your current theme.
http://forums.qj.net/f-psp-development-forum-11/t-release-psp-wardrobe-106127.html