PSPedict is a general Japanese <-> English dictionary with many japanese Japanese entries. You can search in English via the On Screen Keyboard (OSK), or in Japanese using Hiragana / Katakana. It is also possible to search using Kanji from a Kanji Popup window, or when navigating through the Kanjidic fil. You can save and load found sets, and store up to 2000 entries in each of the four study lists.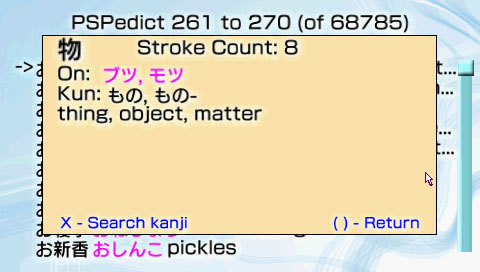 Changes:
– Included support for Tanaka Corpus example sentences.
– Fixed a bug that cut some English description strings short.
– The last English search string will be the default text in the
On Screen Keyboard(OSK). I was unable to impliment this for
Japanese text. If anyone has luck with this, I'd appreciate an
e-mail/post about how to impliment this.
– Included an application file "Edict Update". This can be used
by the user to update Edict files if the Tanaka Corpus examples
are updated.
http://forums.qj.net/psp-development-forum/161014-release-pspedict-v0-3-japanese-dictionary.html