PSPedict is a general Japanese <-> English dictionary with many japanese Japanese entries. You can search in English via the On Screen Keyboard (OSK), or in Japanese using Hiragana / Katakana. It is also possible to search using Kanji from a Kanji Popup window, or when navigating through the Kanjidic fil. You can save and load found sets, and store up to 2000 entries in each of the four study lists.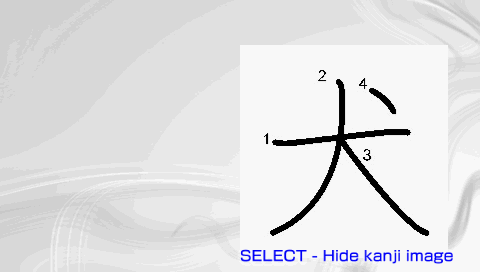 Changes:
– New searchable dictionaries:
* Tanaka Corpus (divided into 3 parts)
* Kanjidic (for studying purposes)
* Surname (divided into 3 parts)
* Given female name (divided into 2 parts)
* Given male name
* Given name gender not specified
* Place names (divided into 4 parts)
* Railway Station
* Company name
* Organization name
* Product name
* Unclassified name (divided into 3 parts)
– Wrote the logic and added 300 kanji images. Help needed with completing the set!
– Fixed a bug. Now Edict icon is immediately seen in menu when used SKIP/Stroke count search.