pspHBSortTool by PartQual is an application for Windows to organize your homebrew programs.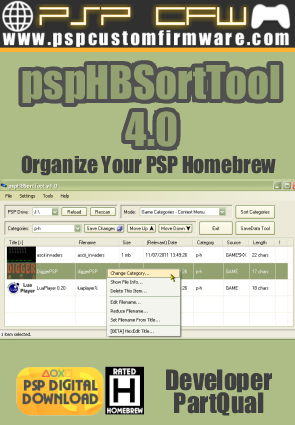 Changes:
+ Added support for GCLight and GCLite;
+ Enabled multi-select on main screen;
+ Added drag/drop from Explorer (to add new items on the fly);
+ Several functions now have batch options (e.g. via multi-select);
+ New tool to validate extensions for compressed files;
+ Rescan option (to add new drive on the fly);
+ Added autoscroll to main grid (enables drag/drop with long lists);
+ GUI tweaks (e.g. change "Target" to "Mode" and seal DDLs);
+ Other minor optimisations.