PSPlay contains an acoustic guitar, an electric guitar, a bass Guitar, drums and a keyboard.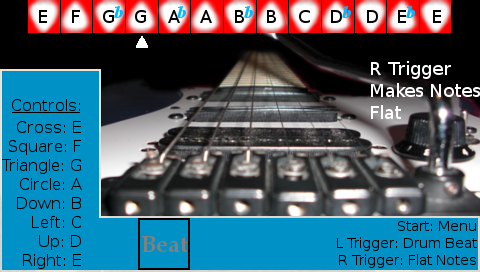 Quote:
Dear user,

Thank you for downloading PSPlay Version 1.0
I'm happy to announce that PSPlay is approaching its 2nd birthday.

The game now includes:
Acoustic Guitar
Electric Guitar
Bass Guitar
Drums (improved)
Keyboard (new)

All the graphics for this game have been improved and there are now indicators so you can tell which note you're playing.

How to install:

PSP Phat:
Place the "psplay" folder in the "GAME" folder if you have 3.xx/4.xx/5.xx kernel enabled

PSP Slim:
Place the "psplay" folder in the "GAME" folder

New:
-Game now loads on both Slim and Phat, no need to download a seperate file for each system
-Keyboard
-Drum sounds
-Graphics (menus, backgrounds, etc)
-Indicator (points to the note you're playing)
-For some reason, that last couple releases included a lot of image files that were never used, those have been deleted.

To Do:
-Make an add-on feature (so users only need to download an add-on pack instead of the actual application each time)
-Re-record guitar instruments
-Take new pictures of instruments
-Fix bugs
-Add another octave in keyboard and eventually in guitars

Known Bugs:
-Drum beat cuts off after a little bit of playing along
-Loading takes quite a while

The controls have stayed the same for the previous instruments, but I'll post them anyway for new users.

Guitars:
Cross: E
Square: F
Triangle: G
Circle: A
Down: B
Left: C
Up: D
Right: E
R-Trigger: Flat Chords
L-Trigger: Drum Beat
Start: Menu
Select: Screenshot

Drums:
Cross: Bass
Square: Snare
Triangle: Tom 1
Circle: Tom 2
Down: Bass
Left: Snare
Up: Tom 1
Right: Tom 2
R-Trigger: Hi-hat
L-Trigger: Crash Cymbal
Start: Menu
Select: Screenshot

Keyboard:
Cross: C
Square: D
Triangle: E
Circle: F
Down: G
Left: A
Up: B
Right: C
R-Trigger: Flat Notes
L-Trigger: Drum Beat
Start: Menu
Select: Screenshot

Legal:
The new drum sounds and keyboard sounds come from Apple Garageband.
I've made the move to an Apple MacBook Pro, allowing me access to new audio, hence the wonderful sounding drums and keyboard.
PSPlay does not use the actual file used in garageband, but a recording of them. All rights to these sounds go to Apple.

This game uses LUA Player for the PSP, the eboot which loads these scripts has simply been edited to show the PSPlay logo and picture so it's easier for users to find.

That being said, this game is open source, meaning anybody can change/manipulate the code to their liking. I do ask that you do not re-release without credit to myself of asking my permission, although I cannot control your actions.

Although influenced by many, this game has been created, revised, designed, birthed, payed, showered, driven, fed, eaten, etc by amrcidiot

Thanks:
There are many people/things I'd like to thank for making this possible.
Of course, Dark_Alex for giving me a platform to program on, and changing my life.
The makers of Audacity for making audio-editing simple.
The makers of GIMP for an alternative to Photoshop.
Apple for making Garageband.
Sir_Axxewraith for helping with beta on the PSP Slim.
Finally, Xsjado7 for making VDrum, the game that inspired my ideas and the overall feel of the game.

Contact:
You can contact me the following ways:
AIM: amrcidiot
Email: bittybob2 @ hotmail.com

Love,
Amrcidiot
Thanks to http://www.tehskeen.com/forums/showthread.php?threadid=15644 for the news.
http://forums.qj.net/psp-homebrew-hacks-discussion/160997-release-psplay-v1-0-a.html