Here is a new version of PSPMSX the MSX series Emulator for PSP.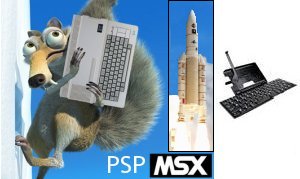 Changes:
– Add missing keys such as HOME, GRAPH, STOP
(Thanks to symBioT for the bug report)
– Auto joystick fire mode, press RTrigger+X to switch it on/off
(useful for games such as 1942)
– Add several new hotkeys :
. settings such as fps, render mode, auto fire speed
can now be directly modified inside the emulator
(no need to enter in the settings menu)
. quick save / quick load current state
(no need to enter in the main menu)
– Bug fix in the low battery watchdog
– Analog pad can be used in the rom file requester
– RTrigger/LTrigger keys can be used in the keyboard
settings menu to navigate between Normal, LTrigger
and RTrigger compose mapping.
http://zx81.zx81.free.fr/serendipity/index.php?/archives/273-guid.html