PSPSSH is a SSH2 Client for the Playstation Portable.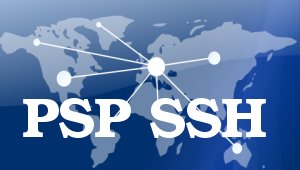 Changes:
– New Danzeff keyboard layout (alt keys are now available)
– New option to save the vt100 screen as a text file.
– New login menu (more friendly, and with new options)
– Improve vt100 emulation (for example, the nano editor works fine now)
– As Matt Johnston advice me, i've added a new initial random seed generation, using keystroke latency (you have now to press psp keys randomly, the first time you run pspssh).
– bug fix in random number generator
– bug fix in key send function
– bug fix in vt100 emulator
Thanks to http://dcemu.co.uk for the news.