PSPVice is a port of VICE, an C64 emulator, to PSP by Christophe Koler.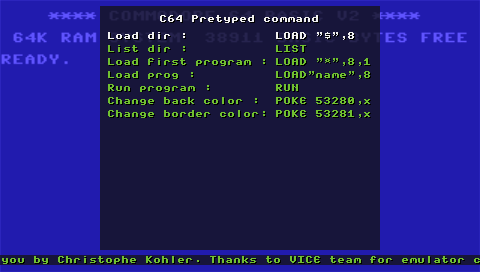 Changes:
What's new :
– Stereo effect on sound output
– Subdirectories support. User can now browse any directory of the memory stick.
– Update to latest VICE version (1.22)
– Add autofire option. Two speeds available.
– VIC20 standalone version.
– PLUS4 standalone version.
– "Shifted" keyboard GFX added (thank to Shabanak)
– Small speed improvment (unfortunatly still not enough for some few games like Cauldron2).
– PSP icons are hidden now ( __SCE__ method ).
– Welcome text at load time (instead of black screen)
– New menus organisation

Bug fixed :
– .NFO Comments fully displayed.
– Fixed "RESTORE key works only once" bug. (from VICE core team)
– Fixed crash when using game files with very long file names.
– Disk files can be saved, but this need to be done manually (by detaching disk). Menu is now more clear and doc on web page describes how to save disks (the feature was in PSPVice1.0).
– P00 files can be launched now.

What is still not working :

– Mouse emulation
– Plus4 and Vic20 are rough ports. Need more polishing.
Thanks to http://www.dcemu.co.uk for the news.