Exter updated his Rubik's Cube game for Playstation Portable.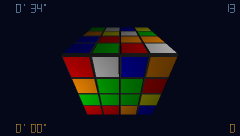 Changes:
Changed:
– 36 degrees up view is now the default view.

Fixed:
– Game freeze when the PSP is put into sleep mode while the new cube menu was shown.

Added:
– Odd sized cuboids (slim towers and wide towers).
http://forums.qj.net/psp-development-forum/156321-release-psp-rubiks-cube-v2-2-a.html