SudokuZen is a Sudoku game for PSP coded by EvilDooinz.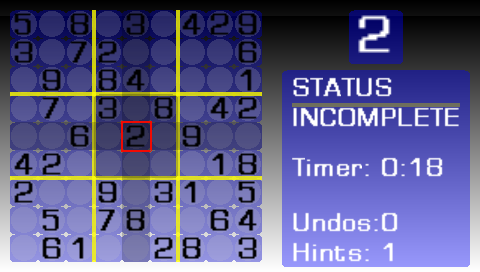 Release notes:
1xx http://www.sendspace.com/file/aif6t8
3xx http://www.sendspace.com/file/50bv5i

Sound effects from http://www.wyomingwebdesign.com

Sudoku Solver/Generator Source-Code from Ohad's blog
http://ohadp.blogspot.com/2005/11/sudoku-solvergenerator-source-code.html

Jas Game Engine++ (c) James Hui (a.k.a. Dr.Watson)

Thanks to Dark_AleX, TyRaNiD and the rest of the pspdev team.

Key mapping on PSP:
———————–

Buttons Functions
====================================
UP/DOWN/LEFT/RIGHT Move cursor
ANALOG CONTROL Not used
TRIANGLE Take screenshot
SQUARE Show hint
CIRCLE Change view ( numbers, colors, shapes )
CROSS Mark cell
SELECT Undo
START New puzzle
HOME Exit
L Decrement value
R Increment value

Please read the license and instructions files included in the package.