As once in a while, Art is updating his Playstation Portable application Time Baby. It's a multifunctional tool, with many functions and it's all about "time".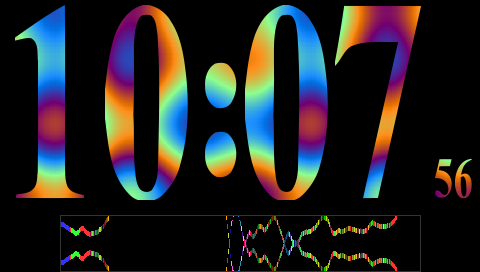 Changes:
– Removed preset locations from the Sunrise and Sunset display mode since it is easy to set a location
in the World time clock screen, and to bring it closer to the way the moon display mode works.
The user defined location can still be fine adjusted in the same manner.
– Sideways Dpad movement in Sunrise/Sunset display mode will allow calculated previews of other dates
the same way the Moon display mode works.
– Previews are reset to current time if UP or DOWN arrows are used to move out of Sun or Moon displays.
– Added configurable plasma clock display. Plasma display settings are saved with user profile.
– Removed multi coloured world map selection. Both grey scale maps can still be selected and saved.
– Small changes to graphics in world clock mode.
– New antialiased font has smooth edges and new font for some display modes.
– Fix to stop program saving screenshots while running under irshell so duplicates aren't created.
– Removed the 13:37 icon Easter Egg. Program has a new plasma screenshot icon.
– PSP unit is auto overclocked to 333/333Mhz when the heart rate monitor is started.
– Implemented support for a user supplied external background image.
– Plasma greetings screen implemented for Memory Stick donators.
– Pressing CROSS button no longer skips intro, but speeds it up instead.