Art once again updated his Time Baby application for Playstation Portable. It's a clock tool with mulitple functions.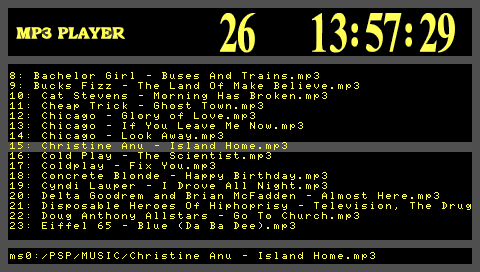 Changes:
– Fixed mp3 playlist feature to play in correct order instead of reverse.
– Program now auto exits if launched from iRshell.
– mp3 playlist auto repeat implemented. Auto repeat playlist is not optional.
– Next and Previous track controls implemented for mp3 player in playlist mode.
– Program wide graphics fixes and enhancements, mainly for mp3 player.
– Screenshot and configuration save features stop the mp3 player to prevent file corruption.
– Program will not start mp3 file browser if the MUSIC directory is empty.
– New intro music and 6AM Sample player updated to play 11025 sample rate.
– Fixed screenshot and exit functions to work in the mp3 file browser.
– Headphone remote control implementation supports Pause/Resume, Next, and Previous track.