This is a PSP adoptation of TYRIAN, a PC game by Eclipse Productions, published Epic MegaGames. The original game was programmed by Jason Emery, illustrated by Daniel Cook, and its music composed by Alexander Brandon and Andreas Molnar.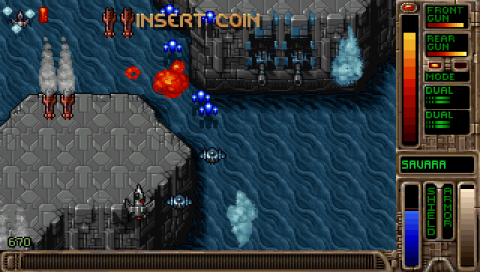 This port is based on OpenTyrian project code ( http://code.google.com/p/opentyrian/ ), maintained by
mindless2112, syntaxglitch,emacs.hacker and yuriks.br.
Tyrian is an arcade-style vertical scrolling shooter. The player controls a space ship fitted with different weapons and enhanced energy shields. Money is earned by destroying enemies and grabbing bonuses, which is then used to purchase upgrades such as weapons, shields, energy generators, and different ships from interlevel menus. The game is fast paced and presents a variety of enemies and bosses.