Retroscribe needs your help to not only release their first SNES game Blow 'em Out, but also to bring the community something we all need: a well-made, low cost new SNES game cartridge shell.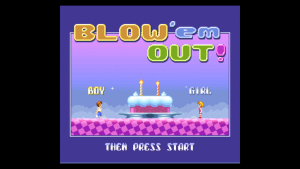 Blow 'em Out is a single-screen platformer with 10 levels. It's your birthday, and you have to blow out all the candles on your birthday cake. Problem is, the candles are spitting out evil fireballs that can not only kill you, but they can also re-ignite candles that you've already blown out. And be careful, the cake is slippery!
Fund it now! The collectors edition is limited to only 100 pieces!
https://www.kickstarter.com/projects/748545416/blow-em-out-new-snes-game-and-new-snes-cartridges