AcceSnake is a "Snake-like game" developed by CmoaToto which uses the accelerometer of your phone. For the first time in a snake game, you can move in any direction, slow down, and accelerate just by moving the phone. You can cross your tail but don't touch the wall or you will loose a life.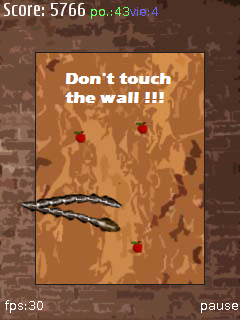 Changes:
-A great new graphic engine !! Here is the graphic version of AcceSnake. And trust me, it's really beautiful !! visit the ScreenShots Page !!!
-You can now play with the keyboard. If you don't want to be seen moving in every ways, or if you doesn't have the accelerometer, you can play anymore !!!
-All the code has been beautifyed and improved.