Jomtris is a "tetris" style of casual game. You handle and remove dropping 4-tile pieces as long as possible and that's it. One game session should take max 5-10 minutes.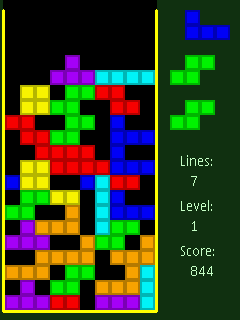 The playing field is vertical 10×20 square field, there are different 4-tile pieces dropping down from top and you have to fit them nicely at the bottom. All full rows are removed, to give you some more space to arrange tiles.
You can play either with joystick or keyboard or both at the same time.
There is top-20 high score, pictures on left are from previous v.1.10 release.
This Development Release is made to request feedback. How should this game work, how to count and compare highscore, what kind of setting are needed, what there should be on the screen to make it look nice.