Now you can enjoy playing and watching internet Go/Igo/Baduk/Weiqi on your Symbian mobile device.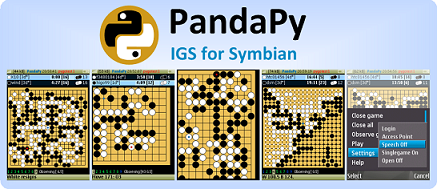 No proxy or fuss, minimal bandwidth usage, cool zoomable anti-aliased graphics, watch or play many games simultaneously, hear the moves being spoken by your phone, easy-to-use interface which saves your settings, all designed to make it an enjoyable experience.
This multi-threaded Python for S60 application can be modified to suit your own requirements.