Archive for June, 2017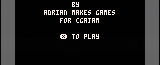 Paratrooper by adrian09_01 is an frantic arcade action with increasing difficulty. Shoot down paratroopers before they explode your cannon!

First Frog in Space by Elastiskalinjen is a lunar-landing type of game mixed with some mining a la minecraft. You need to control your ship while gathering ores to maintain fuel,shield and to go to next level!

Hyper Arkanoid is a one weekend mini-project by Elastiskalinjen. Add some rules to Arkanoid to make it faster. At any time you can add a ball, but doing so at the expense of your HP. Each broken brick generates ammo for you to use, so shooting will be your secondary weapon to destroy bricks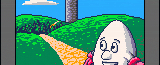 Mystic Realm Dizzy is another unofficial Dizzy adventure, this one here by SophieHoulden. Currently in beta stage and waiting for your feedback to get improved!

Zippy the Porcupine for Atari VCS played trough by M3MB3Rrr. Zippy the Porcupine (Sonic 2600) Full WalkthroughWatch this video on YouTube

Sqrzx 3 by Retroguru is a pretty insane Jump'n Run Game with puzzle elements. Make sure your mind works faster than a thunder and your fingers should be even faster than that. Ported to Nintendo 3DS by nop90. httpv://www.youtube.com/watch?v=embed/U3WccB-

QjackCtl is a simple Qt application to control the JACK sound server (http://jackaudio.org), for the Linux Audio infrastructure. Ported to Pandora by Canseco. Changes: – Latest stable release. – Removed JACK2 from NAND. JACK1 (libjack) from Angstrom repo would be reinstalled using opkg. JACK2 self-contained inside the PND. – Upgrade Pandora OS recommended before launching this

amsynth is an analog modelling (a.k.a virtual analog) synthesizer. It mimics the operation of early analog subtractive synthesizers with classic oscillator waveforms, envelopes, filter, modulation and effects. Ported to Pandora by Canseco. Changes: – Updated libs, compatible with JACK2 self-contained on QjackCtl

Qtractor is an audio/MIDI multi-track sequencer application written in C++ with the Qt4 framework. Ported to Pandora by Canseco. Changes: – Updated libs, compatible with JACK2 self-contained on QjackCtl
The Retro Hour is your weekly dose of retro gaming and technology news, views and interviews from the UK. Content: We chat to the team behind the UK's biggest retro computing and gaming museum, the Centre For Computing History in Cambridge