KR155E released a demo of his game BLOX 2, it's a Sokoban style puzzle game.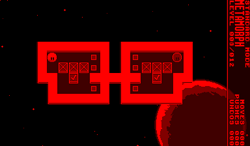 Quote:
I have release a demo version of my current Virtual Boy homebrew project BLOX 2, a Sokoban style puzzle game. Since changing to the latest gccVB version about 2 months ago, the game refused to run on hardware and I hadn't touched it since then. So I think it's a good idea to share the last build from before the change in form of a demo version. Features of the demo:

– 16 MBit ROM
– 3D Graphics
– Over 1500 Levels in 29 Level Sets by various homebrew level authors
– Undo Functionality
– Includes "Multiblox" levels (two players to solve a level, each controlled by a D-Pad)
– Includes huge levels up to 29×32 blocks in Mini Mode
– Includes 6 languages: English, German, Spanish, Swedish, French and Italian
– Save Battery support to save options, finished levels etc

Any feedback about the demo is appreciated and will help to release a polished final version.
Thanks to KR155E for the news!