Archive for: File Categories Games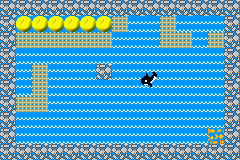 Blowhole is a puzzle game for the Game Boy Advance. Blowhole is NOT licensed by Nintendo. The idea for Blowhole came from the game Slippy 1.0 by Martin Hock for the TI-85 calculator with ZShell. 15 of Blowhole's 25 levels are adapted forms of levels from Slippy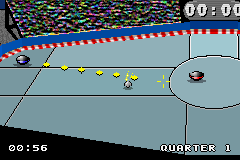 The object of the game is simple; to score more goals than your opponent. To do this, you need to strike the ball with your hovercraft. The hovercraft is moved by placing a cursor where you want to go. The distance between the cursor and your craft affects how fast you will travel. In addition, there is a time limit [&hellip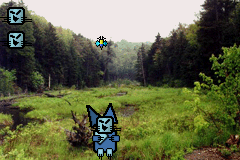 Bad Bad Bees… 🙂 And a poor cat!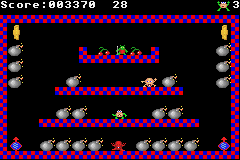 Bombs Away!! is a little platformer for the Nintendo Gameboy Advance. The aim of the game is to collect all the bombs before the timer runs out, you receive a time bonus at the end of each level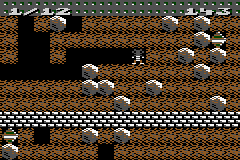 A conversion of the C64 game Boulder Dash by Rich Heasman. This game is freeware and is an unoffical conversion which is not endorsed by First Star Software!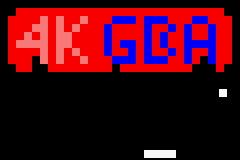 Breakout game in 4K only!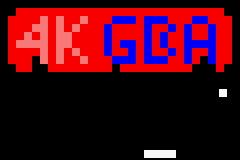 Remake of the classic game 'Breakout'. Bounce the ball off of your paddle to hit the blocks. When the ball hits a block, that block will either change colour or disappear. The colour of a block indicates how many more times it needs to be hit to disappear. If the ball hits the bottom of the screen, you lose a [&hellip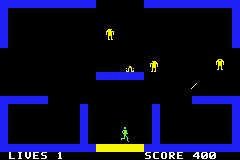 This game is a remake of Berzerk for Gameboy Advance. Original by Stern Electronics (c) 1980 – This version by Oscar BraindeaD in May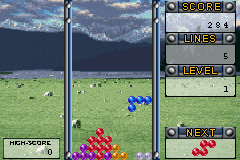 Bobble Tris is a Tetris like game for Gameboy Advance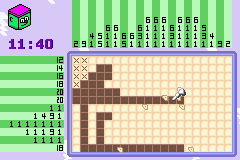 Picross is a puzzle game where you try to reveal a picture. The puzzle lies in the process of revealing the picture. To reveal the picture, you are given hints as to blocks of continuous pixels. Each block of pixels is listed by row and by column. You are to use these numbers to help you reveal the picture. The [&hellip