Battery Saver is the most powerful battery power management application specially designed for Android. It aims at meeting customers' needs to save battery under various circumstances, and gives you options to handle all common factors that eat up your Battery. These could be wireless connection switched on when you are not using them, loud audio alert or vibration at unnecessary situation, and constantly retrying connecting signal at weak signal area, etc.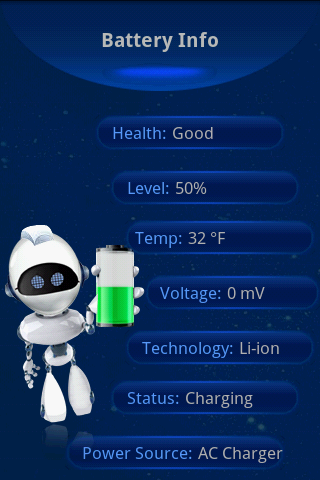 Based on system specifics, Battery Saver provides the most accurate information on your battery level, temperature, voltage, and battery health status, etc. An auto-updating live chart allows you to visually tracking your daily battery usage. Besides, Battery Saver's Profile Manager enables you to customize different battery usage status for different situation: i.e. you can set up a series of wireless connection, sound and display, signal settings for office, home or school.
Get this app and implement advanced battery saving techniques for Android in a practical way!
Features:
* Quick management of WiFi, Bluetooth, GPS, auto sync
* Quick battery saving settings for sound and display (volume control, screen brightness and timeout etc.)
* Monitor radio signal at weak signal area to save battery
* Monitor WiFi signal at weak signal area to save battery
* Monitor WiFi, Bluetooth, GPS and Sync at device lock
* Real-time battery status (capacity, temperature, voltage, and charging status, etc) monitor and battery power management
* Auto-updating live chart and battery log tracking your daily battery usage
* Set profile for different battery use environment