BubbleBuzz is specially designed for android users to customize various incoming notifications. It assigns colorful bubbles to SMS, MMS, Missed Calls, Gmail, Gtalk messages. Definitely more fun than the simplex LED notifications!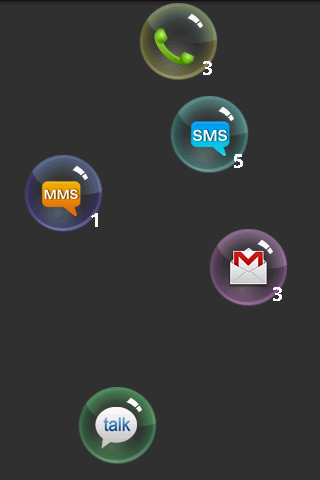 We all miss the various LED colors informing us about new SMS, MMS, missed call etc. Due to hardware issue, most android devices are not able to flash multiple LED colors for incoming notifications as BlackBerry does. BubbleBuzz solves this problem for android phones. Each time when there is a new notification, BubbleBuzz pops up a bubble on the screen with type (SMS, MMS, Missed Call, Gmail, Gtalk), and amount of the notifications for a specified time. It always reminds you of new notifications even when your phone is locked and in silent mode! To make the bubble notification more personalized, you can also customize bubble timeout, bubble moving speed, background color and brightness. By a quick glance at the bubbles on screen, you take full control of all incoming notifications and will no longer miss any important calls, messages and emails.
Besides bubble notifications, BubbleBuzz also provides optional ringtone alert and vibration alert for incoming notifications.
Features:
* Custom bubble notifications for SMS&MMS, Missed Call, Gmail, Gtalk message
* Repeating audible alert and vibrate for incoming notifications
* Bubble notification is fully customizable and can be set to automatically stop after a specified interval
* To save battery, BubbleBuzz service can also be set to automatically
– start and stop at specified time
– stop when battery is below a certain level