Scan a barcode to instantly check if that "sale price" really is a good deal. Read reviews to find out if those hiking boots will last a lifetime, or fall apart next month. Keep track of shopping lists, wish lists, and more.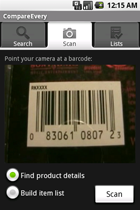 Use the built-in camera to effortlessly scan barcodes, making shopping a breeze.
Compare prices across dozens of stores in only a few seconds.
Use GPS to find nearby stores, then call them directly, or find driving directions using Google Maps.
Author: Jeffrey Sharkey