Cooking Capsules streamlines the process of recipe planning and cooking with the "encapsulation" of a mini cooking show, tools for shopping, and a checklist containing each recipe step. Simply "Watch, Shop, and Make" using your phone as your fancy little cooking sidekick. You may also wish to "encapsulate" your own recipes into "Caplets" so you'll never forget that magic ingredient or recipe step again. Share your favorite Cooking Capsules goods with your friends. See where they are now and what they're craving. Feeling inspired? Post an impromptu dinner invitation. Cooking is social! Have fun.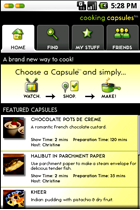 Cooking Capsules utilizes Android for streaming and downloading of video content. The server makes extensive use of Google App Engine.
Android's Location awareness is used to find your nearest markets and friends.
Alerting Android user of timely Cooking Capsules information using notifications.
Authors: Mary Ann Cotter, Muthu Ramadoss
Additional Contributors: Ivan Angelov, Tu Chengyuan, Travis Choma, Tom Gibara