Crazy Crocodile by Joy-inn: The drinking game… that bites! Fun, addictive, Crazy Crocodile is the ultimate party game for responsible adults. You will never again go out for a drink without it!
This crocodile may look cute, but don't be mistaken, it will drive you craaaazy! Rules are simple, but no need to explain them, you won't remember them after a few rounds anyway…
But for the sake of it: you get bitten, you drink. Simple as that… except if you feel lucky and take a shot at the double-or-nothing shuffle game, which you probably win early in the game. But it will always end up as a double punishment later on…
– 2 to 8 players
– Beautiful graphics and sound effects
– Player who pushes the wrong crocodile tooth loses the round
– Double or nothing mini game
– Absolute fun with friends
Crazy Crocodile: Enjoy responsibly, play with moderation!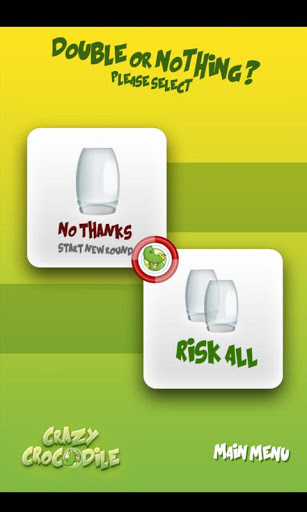 Changes:
– fixed initialization problem on some devices (EGL_BAD_CONFIG)
https://play.google.com/store/apps/details?id=com.joyinn.crazycroco&hl=en_GB