Gemanator: Shirlanka Paradise is an Android game by Kaleb Parham Productions.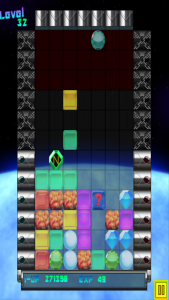 Help Paris and Max overcome a puzzle by an ancient human civilization and overthrow an evil madman!! Quickly arrange multi-colored gems into lines and clear them away. Build up your skill, compete with friends, and obtain Shirlanka in crazy energetic puzzle madness!!!
Use quick witted strategy to shift four or more gems horizontally, vertically, or into a square for points. Do it quickly to earn combos and bring your score up even higher. As you figure out the game, you can push it to get higher scores. But as you push the game, the game pushes back even harder. If you fill up the entire playfield with gems, you lose!! Can you conquer the Gemanator and discover Shirlanka?
https://play.google.com/store/apps/details?id=com.kalebparham.gemanator