Equipped with handwriting input, video chat, map marking, graffiti and multi-share, IMEasy offers a fresh mobile chatting experience as well as extending "touch" with friends. If people want to chat with friends by handwriting, use IMEasy. If people want to show a travel plan to a friend just like holding a map and a pen face to face, use IMEasy. If people want to draw paintings or share pictures with friends, use IMEasy.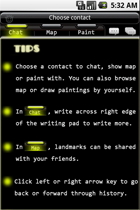 For handwriting input, write across the right edge of the writing pad to input more. You can also drag the vertical bar at the right bottom out to start video chat.
IMEasy uses Maps API to display and combine maps with IM to make the map shown interactive.
Combine paint with IM to let friends do paintings together.
Author: Yan Shi