Life360 uses a multi-channel messaging system and neighborhood-centric social network to keep you up-to-date and in contact with your family and local community. Fire warning in your area? You'll hear about it right away and can instantly let your entire family know you are safe. Dog ran off and you want to ask your neighbors for help? Post a request on the map that everyone nearby will see.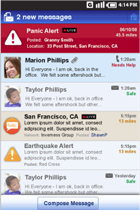 Using Android's always-on networking capabilities, Life360 can ensure you always stay in contact with your family and know when important events happen in your area. Unlike most emergency alerts, these are specifically customized to you.
Track your family on the map, know everyone's status instantly, and access their important medical information and emergency profiles. Get in an accident? Life360 monitors the accelerometer to detect if you are in a collision and automatically displays your emergency data onscreen when you need it.
A location-based message board where you can ask for help and assist others. Unlike other social networks, this one isn't about interacting with friends, but helping your neighborhood overcome challenges as a group. Need help in a hurry? Push panic and we will notify everyone nearby.
Authors: Chris Hulls, Dilpreet Singh, Luis Carvalho, Phuong Nguyen, Steve Potell