MyCloset can manage a person's fashion items through a mobile phone and can check weather information to select appropriate clothing. When taking a trip, MyCloset coordinates outfits by checking the weather at your destination and then generates a list of items to take with you on your trip. In addition to sorting by registration number, item name, and frequency of use, MyCloset can sort by the color features detected from the image. With an intuitive user interface and a charming design MyCloset offers a new user experience.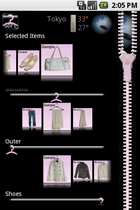 This application features seamless screen transitions through the use of animation.
The layout structure(XML) is capable of utilizing Android features which can be described separately and has high legibility.
Author: Mamoru Tokashiki