OpenArena is a multiplayer 3D shooter, based on Quake 3 Arena FPS. Supports online matches and offline play with bots. Deathmatch, Capture the Flag and 10 other game modes are available.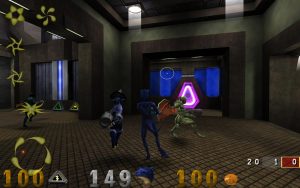 Changes:
* Fixed app crashing on start on Android 2.3 – 4.4.
* Fixed voting.
* Added UPnP support for hosting your own online servers.
* Added ARM64 support.
* Added new shiny US-based dedicated server.
https://play.google.com/store/apps/details?id=ws.openarena.sdl