PicSay allows you to quickly add word balloons, titles, and props to the pictures you have taken with your mobile phone camera. Enhance them further with various color correction, highlighting, and distortion effects, and then easily share them with your friends and family via e-mail, your blog, or photo sharing sites on the web.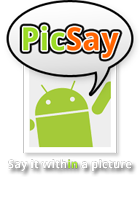 PicSay uses various Android UI components and animations to create an intuitive interface that is fun and easy to create pictures that speak.
PicSay performs picture uploading in the background and uses Android's notifications system to inform the user about the status of the upload.
PicSay does reverse geocoding using Android's location API to provide the user with address information that can be used as text for his or her picture. Great for creating holiday pictures!
Author: Eric Wijngaard