Rumor – Tilted Crowd is an Android game by Yun Seok Seo, Youn Dae Jin, Geun-Hee Park and Jae Gook Yoo.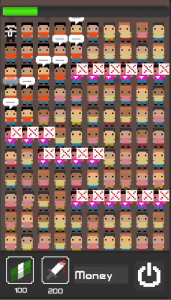 Rumor spreads like wave between people.Only few individuals are needed to start the talk and make it look like public opinion. And many corporations and governments use this idea to manipulating public to their favor,
This game make you to become a secret agent and spread rumors to manipulate crowd for your need. You have funds for bribing citizens and eliminating protesters against you.
This game was intended to give experience and warn people for manipulating media and social opinions.