SuperMageWorld is a Jump'n Run game by JacPete.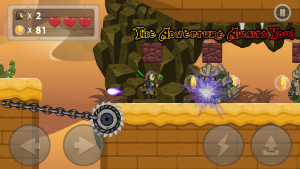 Help Trisha on her way to defeat the enemies before the kingdom runs out of time. Jump and run through more than 50 levels in 5 different worlds (Jungle World, Castle World, Desert World, Ice World, Ghost World). Face different enemies, boss battles and traps in each world.
Changes:
– Fixed a bug that caused a flickering border on 16:10 devices.
– Falling platforms in greenlandvalley got a better collor.
– Have fun playing this jump and run game and thanks for the feedback!
https://play.google.com/store/apps/details?id=com.Witch.World