TuneWiki plays audio and video while displaying synchronized lyrics or translated lyrics. It allows for a music based Social Network where users share music information with friends and can sync and translate lyrics directly from their phone. TuneWiki displays music maps that show songs playing in the same GPS location and can navigate the map to any other location in the world to see what's playing there. It also creates music charts that shows top songs in GPS location, or of any country or state. TuneWiki allows connectivity to Open-Social where users can share what they are playing in real time and allow friends to send feedback to the handset.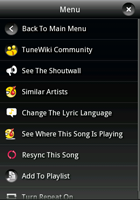 The music and video playback abilities for content found on the phone storage and Android's "Always on" internet connected platform empowered a creation of a virtual library. The music and video can be local or "in the cloud" and play normally, it can be part of any play-list or ad-hoc, played from maps, charts, or recommendation.
GPS powered the localization reporting of music consumption. The Native Google Map shows what plays where and by whom, and the native YouTube player allows the virtual library (any music that played anywhere by anyone) to be shared via the maps and the community.
On the WebApp side, Google generously allowed us to hook their translation engine to translate lyrics on the fly. OpenSocial allows sharing across multiple social networks. Google Map allows sharing with Android-less friends.
Author: TuneWiki Inc.
Additional Contributors: Rani Cohen, Chad Kouse, Zach Hobbs, Jared Fleener, Amnon Sarig