Yet Another Pixel Dungeon (or YetAnotherPD for short) by ConsideredHamster is a roguelike RPG with pixel graphics and simple controls. Like most other games in this genre, it features randomly generated levels, relatively high difficulty and a large number of things to learn. And like most other games of its genre, it is quite challenging.
This game is based on the source code of another Android game, Pixel Dungeon. It began as a small project with the goal to improve the original game here or there, but has since gradually grown into something much, much bigger. The games are quite different from each other, so there is no need to play the original game before trying this one.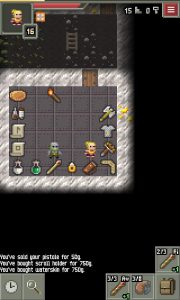 YetAnotherPD is absolutely, totally and completely free. There are no advertisements, microtransactions or limited access, and will never be. Most likely, even the "donate" button will only be added after the main release.
Changes:
Version 0.3.0b was released! It mostly fixes some of the found bugs, exploits and typos, but also affects the game balance a bit. All details are in the game. Thank you for your patience!