Eke-eke has released a new version of Hu-Go GX Turbo Grafix 16 / PC Engine emulator for the Nintendo Wii and GameCube. The most notable feature is the emulator can now load ROM files from the Nintendo Wii's DVD-ROM drive without the need for a modchip.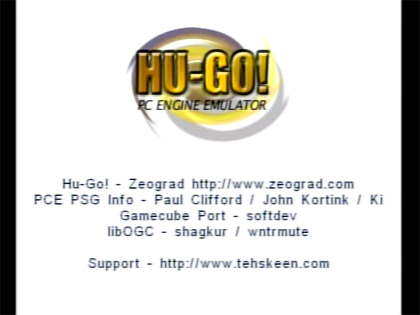 Changes:
[NGC/WII]
– fixed Load/Save WRAM options being inverted
– fixed progressive mode (480p) automatic detection
– added automatic alphabetical file sorting (Marty Disibio)
– added ROM History for faster ROM access (Marty Disibio)
– fixed I/II & RUN/SELECT buttons being inverted
– fixed ROM files scrolling size
– added DVD support in Wii mode (no modchip required)
Thanks to brakken / http://www.tehskeen.com for the news.