AnkRace by Min is a water effect demo that turned into a little game in which you bet on rubber ducks. Bet on the duck you think is going to reach the finish line first. Some ducks are quicker than others and the starting position also matters.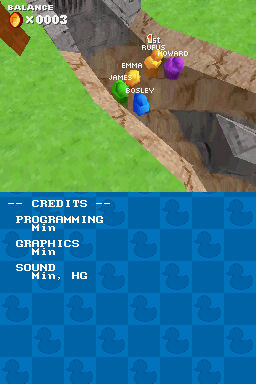 AnkRace www.nintendomax.com
Thanks to http://www.nintendomax.com/viewtopic.php?t=13647&f=19 & http://gbatemp.net/t302313-ankrace and http://hive.ndshb.com/index.php/component/jdownloads/view.download/4/217 for the news.