You are the Bitsweeper, explosives hunter extraordinaire. Your mission, although simple, is very dangerous: locate and deactivate all the missing bits on bitfields before they hurt anyone else.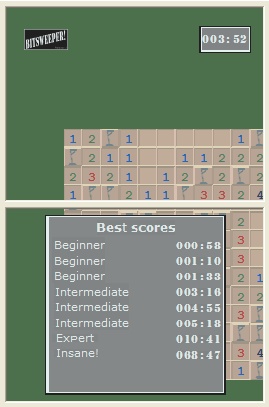 Changes:
Built on r23 of devkitARM.
Added DLDI support. This means the best scores table will now be recorded upon finishing a level!
Also, if no media card is present, an existing slot-2 card can be used to save best scores. (This was present in release 1, but, because of a hideous bug in the code, it didn't work as expected.)
Improvements on random cell generation. This means boards are now truly random, giving it a little more variety on play.
Many, many bugs fixed! As of this release, there are no known bugs in the game.
Slight visual improvements. If you've seen the first release, they will be immediately apparent.
Discussion: http://forum.gbadev.org/viewtopic.php?t=15462