ETkoala updated his Chip8 emulator for Nintendo DS. Most importants updates are: SCHIP games are now playable and added directories support to GUI browsing.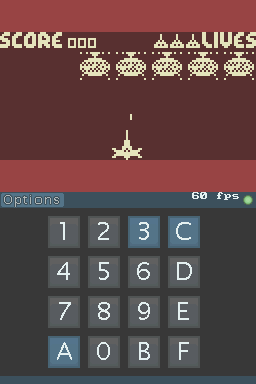 Changes:
-CPU: Added SCHIP support
-CPU: Fixed SP (it was skipping the first one)
-CPU: RND opcode fixed (fixes VBRIX bugs)
-CPU: LD Vx, K (Wait for keypress) fixed
-GUI: Added directory support
-GUI: Added file-sorting
-GUI: Long names are now short when displaying
-Misc: Fixed some memory overflows
-Misc: fixed some debugging problems
-Misc: Added auto-zoom (fit to screen, schip has different resolution)
-Misc: Added 'reset to default' option
-Misc: Added few options ('reset to default' and 'save and continue')
-Others: some minor fixes.