Snailface released an update to "DS Battery Life Timer". It measures the battery life time of your Nintendo DS.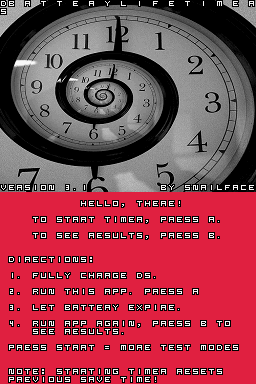 Changes:
1. Works on 3DS now. Modes 3, 4, and 5.
2. Graphics changed. (icon, videos, title screen)
3. Five testing modes (press start at title screen for menu): — sound/nosound — 3ds/ds — screen lighton/lightoff
4. Less flickering.
5. Less chance of crashing.
Thanks to http://www.nintendomax.com/viewtopic.php?t=13293&f=19 for the news.
http://tgames.fr.nf/homebrew-ds-dsi-3ds/ds-battery-life-timer-3-1-t7356.html