DSGIS (DS Geographical Information System) is a project making GPS function available on DS console. Now, all of the team members are making their best to accomplish most of the functions which have existed in the traditional GPS equipments.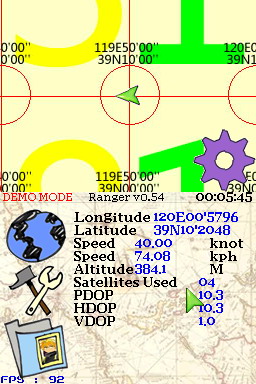 Discussion: http://forum.palib.info/index.php?topic=4552.msg26383;topicseen#new
Other release notes:
For the moment,we entitle Ranger as the code name of the first development project.

So far, numbers of flashcards have been proven to be available when they are working together with Ranger, such as AK2(whith out FAT) EZ5 M3DSR M3SD(with out Real GPS) R4 SCDS. And, there are much more proof-tests on the way now.