ant512 comes up with a remake of "Earth Shaker", a "Boulder Dash" like game, originally released on ZX Spectrum in 1990.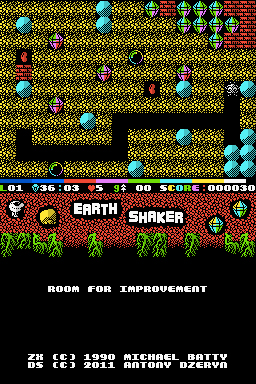 Changes:
This version has a few tweaks and bugfixes:

– Tweaked control system.
– Added extra life sound to sound test.
– Sounds stop when switching screens/game sections/etc.
– Added animation when collecting beans.
– Added pause when collecting teleports.

The most important change is the tweaked control system, which makes it far less error-prone when trying to nip around corners and avoid falling boulders.