ant512 comes up with a remake of "Earth Shaker", a "Boulder Dash" like game, originally released on ZX Spectrum in 1990.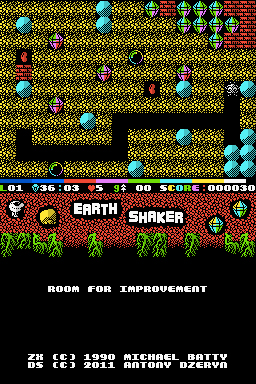 Changes:
This one adds in a feature from the original game that I completely missed – the ability to touch blocks adjacent to the player without moving into that space. The original game required you to press fire and a direction but, as the DS has more buttons, I've used the X, Y, A and B buttons instead. For example, start a new game at the first level and press X. The soil block above the player is removed but the player sprite does not move. The same happens with the soil block below if you press B.

This functionality is essential to get through the game (try level 9 – "Internal Reactor Inc" without using the new buttons), so I can't believe I forgot to put it in. The button to bring up the map is now Select.

The full changelog follows:
– Added poke functionality to touch blocks without moving;
– Added animation when collecting beans;
– Added delay when teleporting;
– Various refactoring.
Thanks to http://nintendomax.com/viewtopic.php?t=13412&f=19 for the news.