NitroGrafx is a PC-Engine/TurboGrafx16 emulator for the DS by FluBBa. Most things from PCEAdvance are ported over and most games run quite good.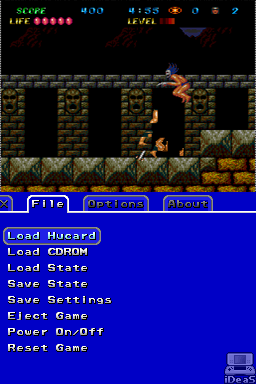 Changes:
*Support for all 2048 tiles.
*Support for 1024 wide tilemaps.
*Support for 320 pixel wide screenmode.
*Better caching of tiles/sprites, less flickering
*Optimised everything.
Thanks to http://www.nintendomax.com/viewtopic.php?t=13980&f=19 and http://www.ds-scene.net/?s=viewtopic&nid=11342 for the news.