In mid of February there were some more progress news about the ongoing "Ports of Call" remake for Nintendo DS.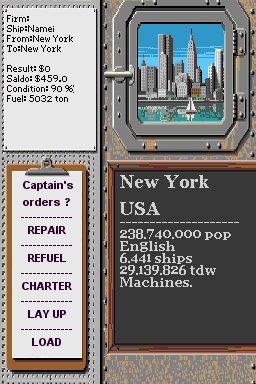 Read on:
It's about time for another update. Although i only make slowly progress there is at least some progress. The bug checks are taking more and more time despite the short cuts i take in testing. But each and every functions and event needs to be tested before i continue on the next one. I still have to test two events that i programmed already and i only need to make two new events to finish the coding for the game framework. After that i will start adding various sound effects throughout the game.

Things well go even more slowly from now on because i will move to a new house and the house needs some major renovations before it's suitable to live in.

See the Port of Call DS site for the current standing.